Silver buy Peanutbar? Peanutbar in silver (aluminum peanut butter container) buy? Unique peanut butter bird feeder (Peanutbar) in aluminum, which has a very long life. Includes 1 jar of peanut butter? N? Peanutba
Silver buy Peanutbar? Peanutbar in silver
Unique peanut butter bird feeder in aluminum version, which has a long life. Equipped with a handy stick where the birds can sit on.
Easy to install using a nail or screw to hang on almost any surface such as a tree, a wall or a fence.
Very effective for the birds to strike the necessary extra vitamins. Place easily open peanut butter jar in the house.
A real eye-catcher in your garden!
The Peanutbar is also available in an aluminum design with green powder coating.
Includes 1 jar of peanut butter!
Minimum purchase: a piece or several pieces *
Prices: see staggered
*) If you are interested in larger quantities or have any other questions? Click
for our contact form and request information or a quote. We will respond as soon as possible contact you.
Want online compose a theme package Bird with us?
You can come to us throughout the year online Bird theme packs compose with birdhouses and other bird-related products. Call for an appointment or contact us via our contact form
here
clicking.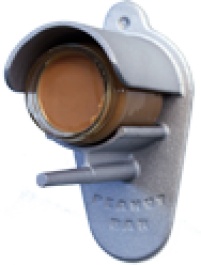 Order


Additional comments on your order please specify during the ordering process, there is therefore a special room reserved.
Rush order
There is also a possibility of an accelerated delivery in consultation with our sales department. You should then contact us via
with our office and order through them to finish. An accelerated delivery date shall be additional transportation costs with.

Payment
For the payment of our products have multiple payment methods are possible. Both companies and individuals have the option to pay with Paypal, credit card, on account or using a gift certificate. All payments done on highly secure connections and credit card information is destroyed immediately after use.
Order Confirmation

After your order you receive an email when the order detail information is displayed.
If you have questions or want more information about our products?


Click
for our contact form!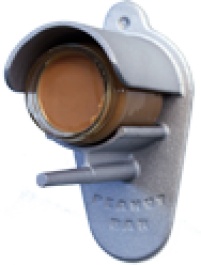 No specifications found...

Green Peanutbar buy? Peanutbar in green (aluminum peanut butter container) buy? Unique peanut butter cottage in aluminum with green powder, which has a very long life. Includes 1 jar of peanut butter.

Window Feeder The Observer. The Observer brings birds directly from your window. This cleverly designed window bird feeder from Droll Yankees ® gives a clear picture of eating birds near your window.

Buying Bird Feeder? With us you can buy a birdfeeder outside for birds. The birdfeeder may be mounted on each window with the suction cup. The handy suction cup confirm and remove the feed scoop very easy, for example, the windows t ...
Bird Houses! Cheap Bird Houses! Cheap self build bird houses buy? Bird Houses! Cheap Bird Houses! Buy cheap bird houses? With us you can cheap bird houses, bird houses and bird feeder homes buy and order directly online!