Blank wooden bird houses (to paint themselves)
Blank wooden bird houses to paint itself

With us you can buy this cute white wooden birdhouses and order online!

Size: 12 x 9.5 x 7 cm.

Provided with a suspension eye on the rear side.

Printing of a logo and / or text is possible, ask for info from our office staff!

Minimum order: from 24 pieces or more pieces *
Prices: see staggered
*) If you have questions or other needs? For example, a birdhouse in a different size or color or types of logos, logo or text? Click
to quickly and easily request information through our contact form!
Tips:
- Birdhouse at least 1.8 meters from the ground confirm;
- Do not confirm a spot in full sun;
- Confirm preferably on the emergency side of a tree or wall, this invasion because of rain.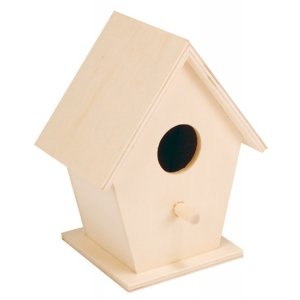 Order


Additional comments to your order please specify during the ordering process, there is therefore a special room reserved.
Rush order
There is also a possibility of an accelerated delivery in consultation with our sales department. You should then contact us via
with our office and order through them to finish. An accelerated delivery date shall be additional transportation costs with.

Payment
For the payment of our products have multiple payment methods are possible. Both companies and individuals have the option to pay with Paypal, credit card, on account or using a gift certificate. All payments done on highly secure connections and credit card information is destroyed immediately after use.
Order confirmation

After your order you receive an email when the order detail information is displayed.
If you have questions or want more information about our products?


Click
for our contact form.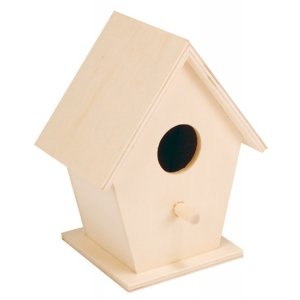 No specifications found...

Cheap wooden birdhouses to pimp yourself with windows and a door to buy? With us you can buy this nice cheap wooden birdhouses and order online! Size: 12 (h) x 10 (W) x 9 (d) cm.
Bird Houses! Cheap Bird Houses! Cheap self build bird houses buy? Bird Houses! Cheap Bird Houses! Buy cheap bird houses? With us you can cheap bird houses, bird houses and bird feeder homes buy and order directly online!